Pet Friendly Beach
We love you but the law must be respected
You know that taking dogs to the beach is your right?
Discover our useful mini-guide to enjoy a relaxed and informed holiday.
The animal has an ID CARD Always bring it with you!!
At your disposal:
Water, pebbles, shovel, waste bags, dedicated tap and refreshing shower bucket.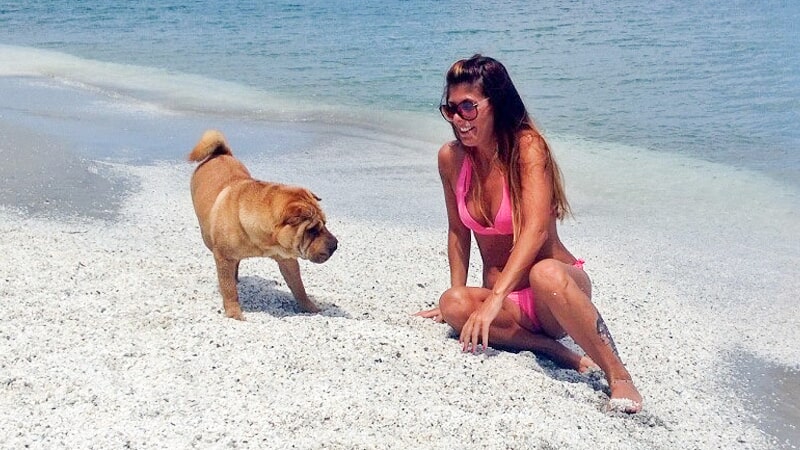 Access is allowed only to SMALL and MEDIUM sized dogs:
BIG size Dogs are not allowed without a veterinarian certifies that ensure the docile nature of the dog and the owner's ability to take care of him.
Dogs are allowed only at DEDICATED UMBRELLAS.
Dogs are not allowed in other areas beyond those dedicated to them.
Dogs can are not allowed at the bar, are not allowed at shower and either to get into the sea.
The dog must ALWAYS be kept at the LEASH;
The Dog owner must have a rigid or soft MUSER to be applied to the Dog in case of necessity.
Medium sized Dogs must always have it attached to the collar if not on the mouth.
The Dog must always be tied to an anchor (UMBRELLA) with leash ad a maximum length of 1.5 meters.
The stay of dogs is allowed only in the dedicated areas.
If the Dog by temperament or character proves DANGEROUS or causes DISORDER it must be removed.
The Dog must be removed from the area if by temperament or character proves to be DANGEROUS or to cause DISORDER.
The owner of the dog is the last responsible, both civilly and criminally of the behavoiur of the Dog himself.
The Dog owner is responsible for CLEANING from Dog's dejections, we can provide scoop and waste bags in case you do not have them.
The female dogs in evident period phase are not allowed.
IMPORTANT: the owner of the dog upon arrival at the beach must fill out a form presenting the dog's SANITARY BOOK, reporting all the vaccinations carried out with the relative date:
The dog must be vaccinated for:
Cimber, leptospirosis, canine infectious hepatitis (from not less he did 20 days and no more than 12 months.
Echinococcosis (for not less than 2 days and not more than 20).
Treatment for external parasites.
Insect repellent treatment.
P.S.
In case of inspection by the competent authorities, if the supposed rules are not found, you can incur a fine ranging from € 200 to € 450 for the owner of the dog and fines from € 1,000 to € 3,000 for the owners of the place.
See section of the bathing ordinance DETERMI. PROT. 10208 REP. N. 663 DEL 03 APRILE 2020.